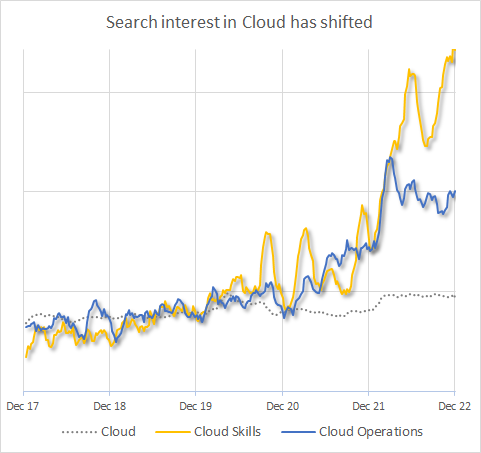 Cloud technology has captured the headlines for years, and development teams have delighted in all the new services and capabilities that have been added. Rightly so. The race has been on to build new applications and get them running in the Cloud. Yet the emphasis has been shifting steadily, largely overlooked, and this shift has accelerated over the last two years.
As the graphic shows, searches for "Cloud" have risen only slightly over the last five years. In contrast, interest in "Cloud Operations" began to jump two years ago, followed by an even bigger rise, in people looking for "Cloud Skills".
Development continues apace and dev teams are still harnessing new technologies and building new things. But now, the applications and services they've already completed are being delivered to customers and Cloud has entered a new era as an operational resource that must be looked after and run effectively.

Firms are now under pressure to deliver the technology systems they've built, and run them every day, and that requires extra people and different skills. Those skilled people are in hot demand.

Tech teams are stretched already
Most internal tech teams are already under pressure. Deadlines and development always seem to chase one other, and there's never enough time, never enough people or enough skills. Development leads to testing, and those tests reveal problems to be fixed. Yesterday's version is followed immediately by the list of new capabilities required for the next release, and each new customer extends the demand for support. The workloads grow all the time.
Everyday Operations is a whole new workload

Technology development is all about getting new things to work. It's all about delivering change, whereas Operations is about delivering stability, quality, resilience, and viable economics, all day, every day.
Back in the day it was thought that moving to the Cloud would reduce the effort needed to run the computers and networks that applications require. Far from it. There's so much that needs to be done. Cloud Operations requires different processes and a different mind-set: Monitoring, Upkeep, Housekeeping, and Incident Response are the everyday focus of Cloud Operations. Strategy rests on Trend Analysis, Foresight and Anticipation Planning to ensure that service continues to be as effective and near problem-free as possible.
These are new tasks and processes that firms must fill if Cloud is to deliver for their businesses. Mixing new development and managing stability in the same team creates conflicting objectives and tensions that are hard to resolve. This tension becomes a real problem if engineers end up having to attempt both. Do they work on new things or should they do the routine housekeeping needed to keep systems running reliably? They usually find new development much more interesting, and the infrastructure management gets short changed.

Partners not Payroll
These operational processes and workloads are ideal to be handled by a specialist partner, particularly when scaling up. The dev team can concentrate on the business and its technologies, while the partner keeps the Cloud infrastructure in prime condition and deals with the everyday Cloud support issues that happen.
Flexiion is one of a new kind of firm that focuses on the everyday operational management and upkeep of Cloud services. With specialists in all the major brands and technologies, and proven processes and techniques, these firms deliver the right team with the full skill-set, as and when required. This frees the internal team, removes the conflicts of mixed objectives, and gives the business more flexibility and scalability, and less payroll.
Cloud systems are going operational everywhere, and this is creating new workloads and a demand for skills that don't easily fit within internal tech teams. Independent firms that specialise in Cloud operations bring tried and tested skills and techniques to the everyday business of managing security, resilience, reliability and incident response. They free the internal team to focus on the business and delivering its technologies and applications.

Support for your Cloud – one or many
Cloud support for stretched tech teams

Support for a Cloud that's unfamiliar

DevOps, CloudOps, CloudSecOps

More flexibility and scalability, less payroll

Blog: Why using a new Cloud provider is getting even harder
Peter is chairman of Flexiion and has a number of other business interests. (c) 2022, Peter Osborn