Last Updated on
Insight is Competitive Advantage –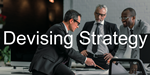 Strategy is the method a venture chooses, how it operates, rather than the list of things to be done. Competitive strategy is about being different, and insight informs and gives strategy the winning edge.

This fast-moving world, with business models being swept aside by insurgent innovations, means that strategy must be carefully judged against astute insight about what's happening outside, to avoid the pitfalls that are trapping many businesses and destroying others.
These articles look at different aspects of the challenges for decision makers in today's business climate, to add insight to the formulation of strategy. This is a developing, changing challenge, and so this is work in progress.
Strategic Insights
 

Trends & Opportunities – External trends are the driver of opportunity – In particular, the timing of trends is a crucial factor determining how value is built. Crucial, too, because the conditions must be right when it's time to realise the value, if that's the objective.
Read more here
Dehumanisation – This is a Primary Trend whose objective is to remove humans wherever possible in pursuit of radical efficiency gains and new propositions made possible by de-manning and de-skilling.


Read more here

AI beckons, and it's all over the place – Astute decision makers need to watch the horizon for insights like these into developments in new techniques, ethics and other regulatory pressures, data, and viable infrastructure to realise practical, cost effective solutions.
Read more here

Digitalisation – Digitalisation is a primary trend, and data is a big subject yet it is growing fast in importance and reach, and decision makers need all the perspective that they can get. This page is a live resource that brings together my top-down observations about data and my views on the direction of travel.


Read more here

How do we survive the big data punch-up? – In today's world it's data that's the currency of power, influence and control. Those that can get more of it try to do so in a cat and mouse chase with those who think they shouldn't. It's getting serious, too, with dangers ahead.
Read more here
Big waves of value hide in Business Models – Technology has been the entrepreneurial and investment mantra for more than a generation. Is technology really where the big opportunities lie? The evidence points elsewhere.


Read more here

Just look at that big wave up ahead! – Uncharted waters lie ahead. The next decade looks challenging with several fundamental questions that must be answered, and past assumptions under threat.


Read more here



More on this subject

Blogs – Full listings of blogs particularly relevant to strategy insights are here:
Peter is chairman of Flexiion and has a number of other business interests. (c) 2019, Peter Osborn.