Last Updated on
Phase Three: Emerging into the Daylight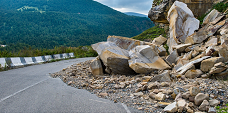 It's already certain that the world will be very different as a result of the virus and the response of policy makers and the public to it. As we emerge into the daylight, we will see what we have to grapple with:
some aspects have been damaged beyond repair,

some can be fixed,

and some things will have changed forever because attitudes have moved on.
Business strategy must be formulated against this backdrop, and the best teams will be ready earlier than others because their ideas have been shaping as the picture has unfolded, and they've not been idle.
This page collects my thinking about the future, as it develops against the unfolding backdrop of our progress through the pandemic. My objective is to be as ready as I can be when opportunity presents itself.
How business is being re-shaped
It isn't likely that many businesses would dissolve in March solely because of events happening in the same month or close to it. The immediate impact of the abrupt loss of customers is more likely to be that businesses that were already marginal or trading with few reserves will have been pushed beyond their limit. This is the first wave of business failures.
The second wave comes when these sectors re-start, and costs must be funded straight away even though customers will take time to re-emerge and spend. This increase in working capital requirement will be too much for another group of businesses.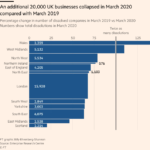 The third wave will come among those businesses that aren't viable at the weaker levels of efficiency caused by social distancing in their supply chains, factories, kitchens and back offices, and front of house with customers and customer support.
Retailers fear pain will last beyond the end of lockdown
H&M recently said sales in China, where the lockdown has largely ended, were still down by about a fifth from last year. One senior industry figure expected to see a similar situation in the UK, where it was "safe to assume that footfall will be horrible" as people continue to avoid crowded areas.
The chief executive of another fashion chain said: "I can't imagine there will be a flood. Things have changed." His contingency plans assume sales declines of up to 70 per cent in some weeks, and he warned the costs of reopening stores with additional social distancing measures could be significant.
Paul Martin, head of UK retail at KPMG, said he expected the current lockdown to fully end by mid-June but a second partial shutdown will begin at the end of September.
"But the overarching message is that 2021 is likely to be worse than 2020," he said, as the economy weakens and unemployment rises. He predicted a 7-10 per cent decline in retail sales in 2020 — including food — but an 11-12 per cent fall in 2021.
Read the article….

Restaurants, hotels and gyms face up to a future of social distancing
The closures of restaurants, cafés, cinemas and gyms are expected to last several weeks, if not months, longer. Operators in countries including the UK, France and Germany have been warned they will be among the last to exit lockdown. Alasdair Murdoch, Burger King's UK chief executive, said the group's "bear scenario" was a 24-week restriction, although he thought 12 weeks more likely.
But many hospitality businesses are already making efforts to prepare for a new normal, by introducing extra space, regular cleaning, protections for staff and technology that limits customers' interactions with workers. The precautions show the extent of the challenges these types of businesses will face long after the lockdown restrictions are eased, with the need to maintain social distancing measures forcing operators to dramatically change how they conduct business.
Graeme Smith, managing director at the consultancy AlixPartners, said the priority was for businesses to "understand the true cost associated with reopening and also around the practical limitations of how quickly you can go. "Companies must retrain staff, restock and repair sites, arrange health and safety inspections and consider marketing campaigns. People don't want to reopen too quickly. Once you've opened and you've taken people off [government] furlough [schemes], you've committed," he added.
Read the article….
Will call centre workers lose their 'voice' to AI?
Many industries have been dramatically disrupted by the pandemic, but the call centre sector is already being transformed by it. Even before the enforced lockdowns, it was witnessing the gradual introduction of new technology based on artificial intelligence that can do some of the tasks done by humans — and potentially replace millions of jobs.
Industry executives say that process of technological change is now accelerating as a result of coronavirus. The new innovations include the introduction of chatbots, some of which use the same voice recognition technology behind Amazon's Alexa, and software that can replace repetitive tasks done by humans.
The Philippine industry, which built its reputation on efficient and courteous voice communications in good English, is looking especially vulnerable.
Read the article….