The Global Picture
Three charts give a clear picture of the global situation and the challenge ahead.
Fatalities across the globe reached a peak in late January and have been in decline over the four weeks since then. However, at the same time, the number of countries recording significant daily fatalities has risen and particularly sharply in the last ten days or so, and that rise has been most significant in the mid ranges of severity, not in the highest. Around the world, the number of people living in countries recording significant daily fatalities has been rising steadily since the peak was reached last Spring. There are now almost two and a half billion people living in countries with high levels of fatality happening daily. This number is at a high now, and shows no sign of declining as yet.
The Covid-19 virus is now endemic globally, in 150 countries, exposing 2.5bn people to serious levels of infection. The conclusions are these:
There is no hope of eradicating this disease in the forseeable future

However good their measures, all countries remain exposed unless travel is banned

The huge pool of infection provides all that is needed for a long roadmap of mutations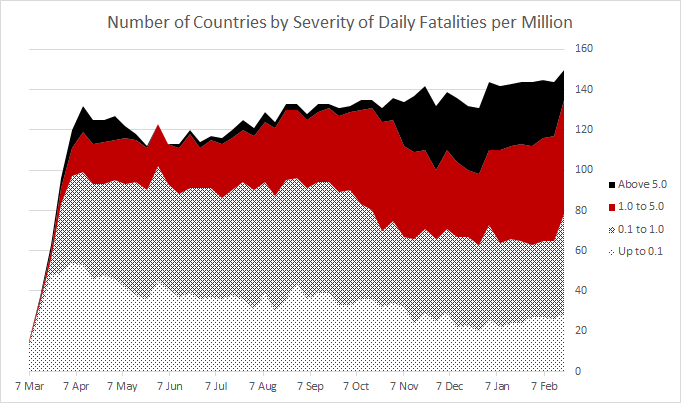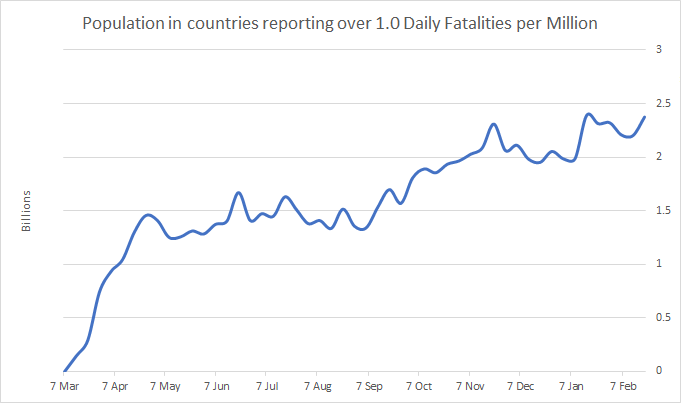 The UK
Reported cases continue to decline and fatalities, too. There are stochastics, of course, but some of these are simply reporting anomalies. The trends are clear.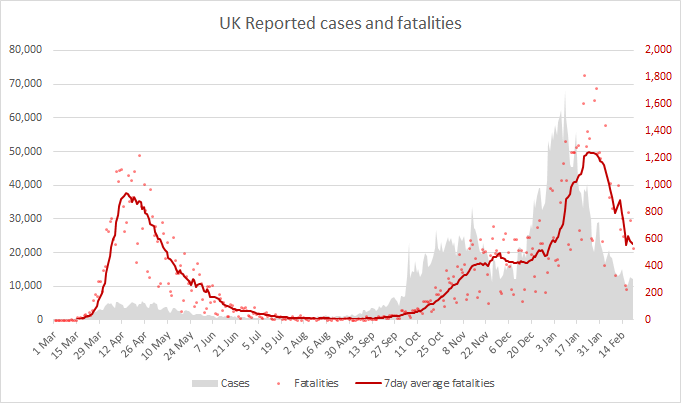 The media narrative drones on and on relentlessly about the woeful performance of the UK and the incompetence of politicians here, particularly compared to those in Europe. Yet evidence of this is patchy, to say the least.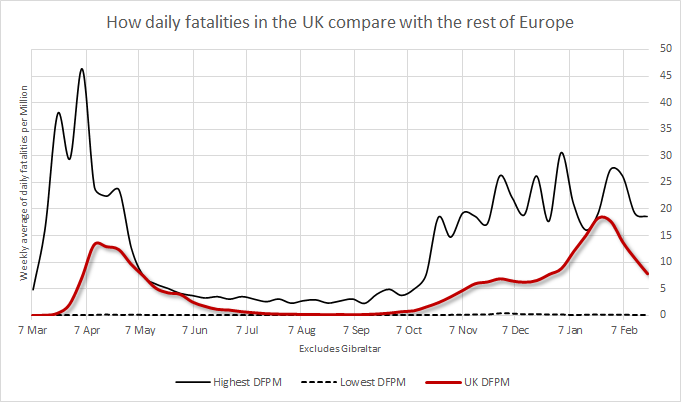 The focus of attention since the start of the pandemic has been on deaths among the old and vulnerable. Now that the UK has succeeded in vaccinating the lions share of this segment of the population, this issue will fade from view. In its place will be the bigger, more pervasive problem of sickness among younger, working age people who are parents, customers and team members.
The first evidence of this appears to be emerging in the profile of positive cases, shown in this chart, which plots the age profile of positive cases in recent weeks. While the number of positive cases has been falling fast, the proportion in the different age groups among younger people has been shifting. In early January there was a peak of those in their twenties. The peak now is among those in their thirties.
One plausible explanation is that those in their thirties have become more adventurous as the vaccination programme has succeeded and led to a more positive outlook. This is the area to watch in the weeks ahead.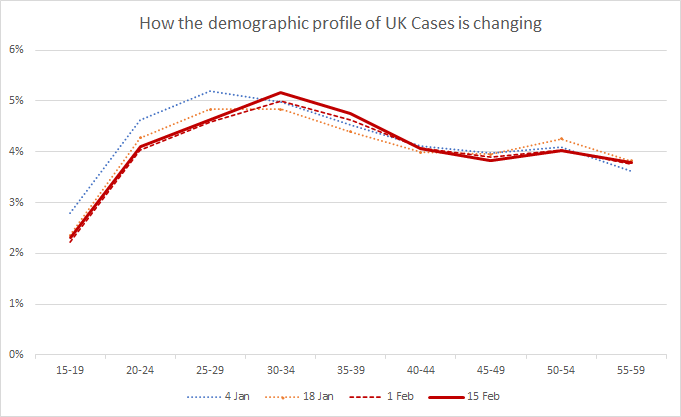 Peter is chairman of Flexiion and has a number of other business interests. (c) 2021, Peter Osborn